SW Museum Project
Interactive Art Museum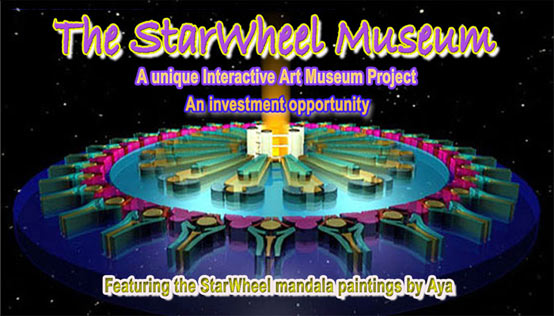 The StarWheel Museum

An investment opportunity
for the creation of a unique Interactive Art Museum
featuring the StarWheel Collection
of mandala paintings
by visionary artist
Aya
108+ airbrushed paintings on canvas (size: 6 feet by 6 feet)
covering over 4,000 square feet

*

Location: planet Earth



Prompted by a compelling visionary experience in 1985, in Santa Monica, CA, French-born artist Aya has dedicated his life to the creation of a family of mandala paintings called the "StarWheels".
Dimensions of paintings: 6 feet x 6 feet,
starting with SW series #2.
Medium used: airbrushed acrylics on canvas,
through multi-layered stencils.
Size of collection: 9 series of 12 pieces each
= 108 paintings. And growing…
Area covered: over 4,000 square feet.

The StarWheels are "neo-mandalas", or Sacred Circles / Medicine Wheels in a 21st century global setting. They are specifically designed to guide human perception into an integrative experience of harmonic oneness.

These unique futuristic templates are a technology of consciousness. They activate higher dimensional evolutionary codes of well-being in the DNA & body-mind and reawaken the frequencies of advanced spiritual feelings, such as joy & happiness. The StarWheels are dancing partners reminding us that we are infinite co-creators in a magnificently loving universe.
*
Aya feels that the time has come to offer to the world this collection of transformative tools, in a state-of-the-art interactive "StarWheel Museum" facility.

An innovative combination of exploratorium, display gallery, multi-media immersion environments, experiential games & pluri-disciplinary tutorials, the StarWheel Museum is envisioned as a world-wide promoted, public access hub for entertainment, education and research about the color-sound-geometry vibrational nature of the universe. The Museum will offer the best multi-media technologies, both traditional and cutting-edge, to support the expansion of human consciousness into the realms of quantum intelligence & enlightened wisdom.
The StarWheel Museum is a timely contribution, on planet Earth,
to the re-creation of a global culture of sacred arts & celebration of Life.

Aya and the staff at the StarWheel Foundation, a 501(c)3 non-profit educational organization based in Arizona, are available for professional meetings & discussions about potential partnerships re: the establisment of a StarWheel Museum located in some highly visible part of the world open to new developments in art and science such as Asia.

We are looking forward to meet venture capitalists, innovative investors, adventurers of spiritual business, philanthrops, public & private parties involved in education through the arts, visionary architects & planners, business people wishing to apply their skills to make a difference, gardeners of spirit, compassionate beings concerned with the future of next generations, public personalities wanting to support a positive cause, organizations & institutions dedicated to global service… and all people walking & dancing the Beauty of Life…

We are seeing a state-of-the art facility, with futuristic architecture of a circular shape, in a well-known & heavily visited area supporting arts, cultural and scientific activities. With the proper location and a world-wide promotion, the entrance & entertainment fees would rapidly pay for the initial investment.
Suggestions, connections, informations, contributions, feedback…
are welcome !

*

Contact Information:

StarWheel Foundation
P. O. Box 3714
Sedona, AZ 86340

Contact us