Sacred Geometry School
Re-Discover the Loving Power of Harmony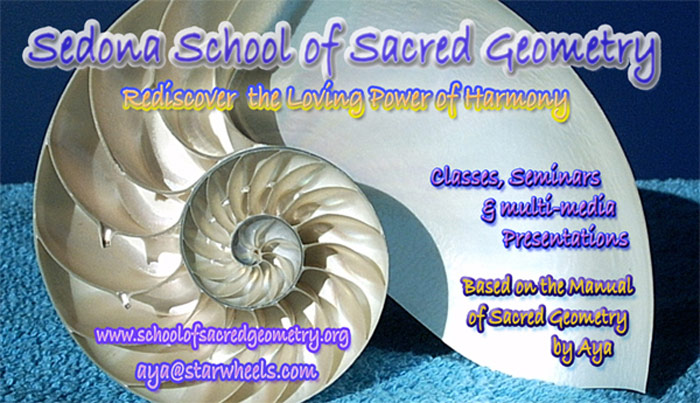 Welcome Friends of Cosmic Harmony!
The Sedona School of Sacred Geometry is now online:
www.schoolofsacredgeometry.org
We offer online & download access to the 16 PowerPoint modules
of the Introductory & Intermediate Levels,
as well as LIVE Seminars in Sedona, Arizona.

The Sedona School of Sacred Geometry is a global
educational project of the StarWheel Foundation,
a 501(C)3 non-profit organization, established in 1991.


The Sedona School of Sacred Geometry was founded in 2005 by artist Aya, creator of the StarWheels Mandalas. Aya felt it was time for him to share with the world his main contributions to the emergence of a New Paradigm of expanded consciousness on planet Earth:
- A life-long experience of intuitive & visionary art creativity in the areas of Mandalas, Universal Symbols, Geometric Patterns, Iconics, Color Activation, Visual Music, Maps of Consciousness and Wisdom Traditions. This has resulted in the StarWheel Collection of 108 neo-mandalas and the corresponding 108 Picto-Koans & Sutras.
- An extensive academic background as a scholar trained to synthesize inter-disciplinary information and research. This is a useful skill at a time when boundaries between disciplines are disappearing and when wisdom of the whole supersedes specialized knowledge of the part. A great hunger for a more unified understanding of the cosmos (both outer and inner) is arising and this is reflected by the mounting interest in Sacred Geometry as a foundational knowledge and a perennial wisdom.
- A personal life journey of spirit pilgrimage, yogic life-style and meditation, searching Self and exploring the world wisdom traditions with the intent of Walking in Beauty, embodying the Loving-Kindness and the pure Light of Spirit, and co-creating a new global Paradise-on-Earth.

The Sedona School of Sacred Geometry website:

In the www.SchoolofSacredGeometry.org website, you will find the Vision Statement of the School, an Introduction to Sacred Geometry and the New Paradigm, and the current online School Programs: access to single PowerPoint modules Intro & Intermediate Levels (16 modules), the Intro Package, and the Certification Package. Print-outs of the SG modules are also available in book form.

The site www.SchoolofSacredGeometry.org offers study material organized in a 3-level curriculum leading to Certification by the School of Sacred Geometry. In the future, a Teacher's program will also be offered. The entire curriculum consists of twenty four PowerPoint modules, plus study & practice material for Certification students.
Level 1. Introductory Sacred Geometry: SG 101 through SG 108
Level 2. Intermediate Sacred Geometry: SG 201 through SG 208

Level 3. Advanced Sacred Geometry. SG 301 through SG 308


The site opened in March 2010 with the first 8 PowerPoint modules
of the Introductory Level (over 1,000 slides and 2,000 images).
The next 8 modules of the Intermediate Level (SG201 through SG208)
are now also accessible (over 1,100 slides and 3,200 images).
The rest of the curriculum will be made available in harmonic timing.



Home Study material


Students signing up for the Intro or Certification package receive access to the 8 PowerPoint modules (SG101 - SG108): they can view each module online (through ispring) or download the Powerpoint files on their computer and view them later at their convenience (need Microsoft Office).

Note that the now classic Manual of Sacred Geometry (500 pages) is still available as well as the classic DVD.
The 24 Online PowerPoint-based Education Modules

Sacred Geometry Introductory Level: 8 Modules
SG 101 Intro I Sacred Geometry: Universal Order & Beauty
SG 102 Intro II History & Traditions of Sacred Geometry
SG 103 Intro III Sacred Geometry: A Grand Tour

SG 104 Intro IV PHI, the Golden Ratio & The Fibonacci Series
SG 105 Intro V The Golden Rectangle & Golden Spiral

SG 106 Intro VI Pentagons, Pentagrams & the Penta-Modules
SG 107 Intro VII The Five Platonic & 13 Archimedean Solids

SG 108 Intro VIII The Vesica Piscis: Cosmic Womb of Manifestation

Sacred Geometry Intermediate Level: 8 modules
SG 201 Interm I The Monochord, Music & Cymatics

SG 202 Interm II The Power of Archetypal Numbers
SG 203 Interm III Sacred Geometry Resurgence in Science.
(Two parts: SG203A & SG203B)

SG 204 Interm IV PHI in the Human Body, Biology & DNA
SG 205 Interm V Sacred Geometry in Nature: Plants, MInerals & Animals
(Two parts: SG205A & SG205B)
SG 207 Interm VII Sacred Geometry in Architecture, Sacred Sites & Green Design

Sacred Geometry Advanced Level: 8 modules
SG 301 Adv I Golden Cosmos: Planets, Stars & Cosmology
SG 302 Adv II Sacred Geometry in Art, Culture & Creativity
SG 303 Adv III Universal Symbols: Geometric Knowledge
SG 304 Adv IV Labyrinths: A Mini-Pilgrimage to Self

SG 305 Adv V Mandalas & Yantras
SG 306 Adv VI Languages & Gematrias: Sacred Communication
SG 307 Adv VI Sacred Geometry in the Healing Arts

SG 308 Adv VIII Science of Harmonics & Consciousness of Harmony


Upon completion of the 24 modules (Introductory, Intermediate & Advanced) offered online, a Certificate of Graduation will be offered by the Sedona School of Sacred Geometry. Partial Certification is available for each cycle, starting with the current Intro Cycle.

Postgraduate seminars on current Sacred Geometry research,
discoveries & updates will be organized upon demand.


LIVE Sacred Geometry Seminars are currently offered in Sedona, AZ
The 7-8 Weeks Sacred Geometry Seminar is scheduled once or twice a year.
Click here for the 7 weeks Seminar in Sedona
Personal or group Coaching / Instruction / Advising can also be scheduled.

IF you are interested in pursuing a Class / Certification / Apprenticeship
with the Sedona School of Sacred Geometry

Contact us here