The Peace Garden (Shanti Park)
at the Sedona Creative Life Center

The Peace Garden is a Nature Sanctuary established in 2004
by the Sedona Creative Life Center and Gardens for Humanity.

The Peace Garden is inviting you
to a personal communion with nature
and a joyful celebration of life.
Click here for the Tree Sponsorship page on www.starwheelfoundation.org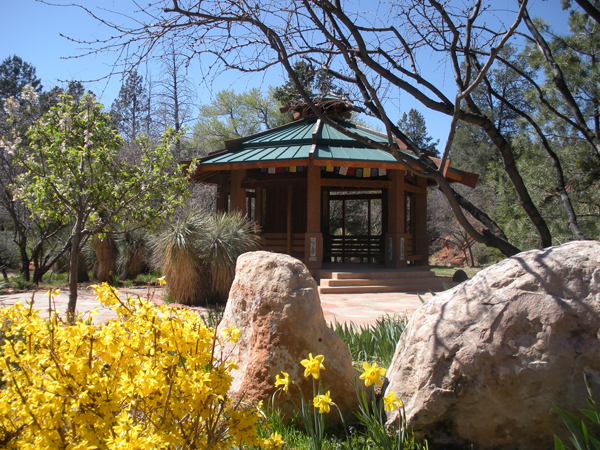 April 2013 view of the Pagoda, with Forsythia and Daffodils in bloom.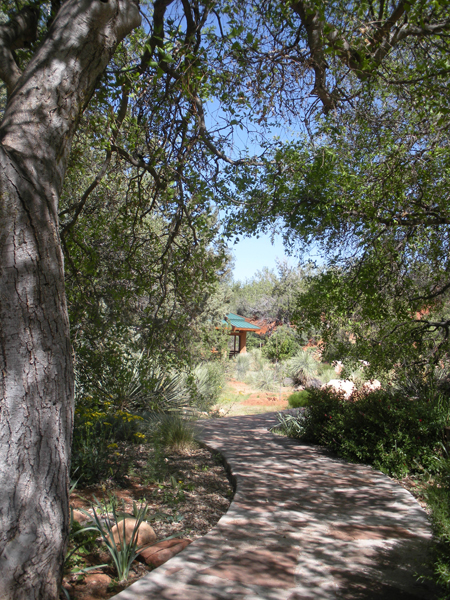 April 2013 - Entrance to the Peace Garden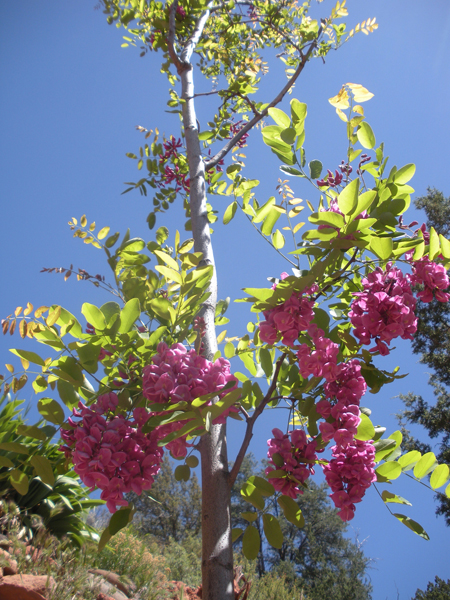 April 2013 - Purple Robe Locust in bloom.
After years of patient landscaping and building of the Pagoda and access paths, the Peace Garden was ready in 2012 for the planting of new trees, both ornamental and fruit-bearing trees, that would offer beauty and use to the current and future visitors. In the tradition of an Arboretum and for the benefit of school students and lovers of nature, new trees will have individual tags giving their names and main characteristics.

We are now offering to Friends of the Peace Garden the opportunity to become Sponsors of newly planted trees. Below is a list of the "tree beings" awaiting a gracious sponsor. Your name will be added to the tag of the tree you choose to sponsor. And you can start a spirit relationship with this special tree being, supporting each other, like you do with a dear friend. As of August 2014, 7 trees have already been sponsored.

Traditionally, a new tree would be planted for each child being born, sometimes placing the placenta in the hole beneath the roots. Thus the child would grow up with a personal tree "ally" and a life-time companion offering its shade, flowers & fruits as an expression of unfolding and cycling within the web of life. Later, the grown up person would come to their tree to honor the bonding & communion with the earth and the elements. This is why cutting a tree down makes a hole in the matrix of life; and planting a tree adds richness and celebration to it.

We invite you to be part of the co-creation of life by becoming a tree Sponsor at the Peace Garden.

Please contact Aya, the caretaker of the Peace Garden, to discuss sponsoring a tree. Aya can be reached here or through the Sedona Creative Life Center. We are also preparing a PowerPoint presentation of the Garden, soon to be uploaded.
"He/She who plants a tree will live a long life".



September 2013 - List of trees sponsored or donated
• Italian Stone Pine (2). Pinus pinea. Donated by Biddles Nursery (Sedona).
Large pine, native to the Mediterranean region. Stone pines have been cultivated for their edible pine nuts since prehistoric times. When mature, Stone pines develop an umbrella canopy. We have two specimens planted on the cliff side, near the parking lot.

• Vanderwolf Pine. Pinus flexilis Vanderwolf. Donated by ProBuild (Sedona).
Rounded pyramidal conifer with blue-green needles. We call it the "silk Pine" as the needles are surprinsingly soft to the touch. This is a very cozy tree to befriend.

• Chinese Apricot. Prunus armeniaca. Sponsored by Larissa Burley (Los Angeles).
Heavy producing tree with yellow/orange fruits and an elegant branch structure. Late blooming with frost resistant buds. Self-fertile.

• Loquat Gold nugget. Eriobotrya japonica. Sponsored by Aya (Sedona).
Loquats are semi-tropical trees bearing apricot-size fruits with a sweet flavor and orange flesh. Sedona's zone 7 is borderline for this type of tree. We will see if it likes the mild Sedona winter.

• Pomegranate. Punica granatum. Sponsored by Adele Seronde (Sedona).
According to Asian legend, the Pomegranate was the "Tree of Life" in the original Garden of Eden. The tiny beads of fruit, full of precious oil and juice, are brilliant as small rubies and are a great medicine for the red blood cells. This tree is an experiment; we are unsure about its hardiness in Sedona Zone 7.

• Weeping Willow. Salix alba tristis. Sponsored by Karen Albrecht (Pewaukee, Wisconsin).
We call it the "Smiling Willow" as it is planted near the entrance and welcomes the visitors to the Garden. A beautiful specimen planted in 2012 and already twice its original size. It is the sun umbrella for the Fountain Plaza's sitting wall.
• Panamint Nectarine. Prunus persica var. nucipersica. Donated by Anonymous donor. One day, I walked into the Garden and there were these two trees with a note "Can I be part of this lovely garden?", signed: Tree. Thank you!
Heavy bearer of red skin, golden flesh fruits. Ripens early to mid July.

• Flowering Peach. Prunus persica. Donated by Anonymous donor (see above).
Large, semi-double, pure pink, carnation like flowers cover the tree in early spring.


August 2016 - List of trees to be sponsored
• Austrian Black Pine. Pinus nigra. $130.
Originating from the Mediterranean regions, this large coniferous evergreen is a fast grower with an exceptionally dark green foliage and a pyramidal shape. Grows to 60 - 90 ft. tall. This pine tree can be long lived, with some trees over 500 years old.

• Catalpa. Catalpa speciosa. $150.
A beautiful ornamental with heart-shaped leaves and showy white/yellow trumpet-shaped flowers. Due to its large leaves, the Catalpa provides dark shade and is a popular habitat for many birds. It is also called the "Indian Bean tree" because of its long, slender bean pods.

• Kwanzan Cherry. Prunus serrulata. $75.
Also called the Japanese Flowering tree (or "Sakura"), this is one of the showiest of all flowering trees. In Japan, there is a centuries-old tradition of gathering under the blossoming cherry trees to celebrate the coming of the springtime. The Kwanzan Cherry is also a perennial symbol of the beautiful but ephemeral nature of all life.

• Southern Magnolia. Magnolia grandiflora. $110.
Magnolia is an ancient genus. Appearing before bees did, the flowers evolved to encourage pollination by beetles. To avoid damage from pollinating beetles, the carpels of Magnolia flowers are extremely tough. Fossilised specimens of Magnolia acuminata have been found dating to 20 million years ago. Beautiful white flowers are displayed in summer.

• Snow Fountain Cherry. Prunus snofozam. $75.
A magnificent flowering tree, entirely covered with white, fragrant flowers from top to ground in early spring. The dark, green leaves turn into attractive shades of gold and orange in autumn.

• Fuji Apple. Malus domestica Fuji. $50.
Soon after its introduction to the U.S. in 1980, the Fuji apple tree became a favorite because of the unique combination of flavor, sweetness and crisp texture of its fruits.

• Purple Robe Locust. Robinia ambigua Idahoensis. $80.
An outstanding shade tree with profuse purple blooms in spring. The strong & sweet fragrance of the flowers, smelling like honey & roses, attracts insect pollinators in droves. Displays a beautiful reddish-bronze foliage.

• Eastern Redbud. Cercis canadensis. $75.
Round-headed tree growing to 25 - 35 ft. tall. Grows large, bright green heart-shaped leaves and displays spectacular purple-pink flowers in spring. Provides a very friendly shade on the cliff edge of the Medicine Meadow.

• Golden Rain Tree. Koelreuteria paniculata. $75.
A native of Eastern Asia, the Golden Rain tree owes its name to the aesthetic beauty of its yellow 4-petaled flowers, as well as to the appeal of its leaves and seed pods. Planted in the North-East corner of the garden, this tree, when in bloom, extends a yellow welcoming to the people driving through the parking lot.

• Birch trees. Betula papyrifera. $80.
A cluster of 4 white birch trees is a reminder of this traditional tree being, widespread worldwide from Asia, to Europe to America. Many are the uses of the Birch tree by different cultures, from carpentry to medicine to drinking the sap. The national tree of Finland.

• Oak tree. Quercus gambelii. $50 each.
We planted 2 small size traditional oaks near the sycamore grove. They are a fast growing hybrid, heavy acorn producers, that will soon be a reminder of the powerful medicine of the traditional oak tree, the sacred tree of the Druids.

• Cottonwood trees. Populus fremontii. $110. $175.
The Peace Garden is hosting 2 new cottonwoods to complement the magnificent old "mother" cottonwood already gracing the South bank of the dry creek. We have planted 2 new members of the family in 2008 and 2011; there are thus 2 different sizes of cottonwood trees seeking sponsors.The largest cottonwood is already 25 feet high.

• Red Maple. Acer rubrum. $125.
Another traditional tree, best known for its syrup-giving sap and its brilliant deep scarlet foliage in autumn.

• Aspen tree. Populus tremuloides. $80.
Also known as "Quaking Popplar", the Aspen tree is the most widely distributed tree in North America. The "trembling" of the leaves is due to the flexible flattened petioles.

• Ponderosa pine. Pinus ponderosa. $110.
Large pine tree distinguished by its bark with exfoliating plates and its long needles growing in tufts. Prevalent in the native forest around Flagstaff. The official state tree of Montana. We planted it on the bank of the dry creek.

• Black Bamboo. Phyllostachys nigra. $75.
A cluster of tall, black bamboo shoots preparing to become a "bamboo grove". With jet black culms and feathery green leaves, this is a sought-after bamboo for wood working. New culms emerge green every spring and gradually turn black in 1-3 years. There is always a contrast of light and dark culms balanced by slender, dark green leaves.
• Linden tree. Tilia cordata. $150.
A traditional medicinal tree, very revered in Europe where it has been planted in villages & towns for its healing shade. It also makes a vey soothing & calming tea.
• Two Pecan trees. Carya illinoinensis varieties. $150 each.
We have planted 2 large Pecan trees, already producing...

• Two Walnut trees. Juglans regia varietries. $150 each.
Two noble and useful trees that will reach to 50' tall. In the back forest.

• Asian Pear tree. Pyrus pyrifolia "shinko". $125.
Round fruits enjoyed for their crisp, slightly gritty, firm texture.

• Mulberry tree. Morus alba. $75.
A female (fruit-bearing), fast growing tree producing an abundance of sweet berries.

• Four Plum trees. Prunus domestica. $75 each.
Along "Plum Alley", we now have several plum trees.

• Jujube tree. Ziziphus jujuba. $75.
A native of China producing datelike fruits that can be eaten fresh or dry.

• Three Blue Atlas cedar trees. Cedrus libani atlantica. $100 each.
From North Africa. These blue cedars will shade the cliff promenade.

• Eucalyptus tree. Eucalyptus microtheca 'coolibah'. $175.
Blue-green, ribbon-like leaves to 8 in. long. Fast growing tree.

• Gingko tree. Gingko biloba. $175.
The "Maidenhair" tree is a survivor from perhistoric times. Medicinal properties.

• Tulip tree. Liriodendron tulip[ifera "arnold' . $250.
Also destined to shade off the clioff promenade. Blooms 2-3 years after planting.

• Liquidambar tree. Liquidambar styraciflua. $250.
This "American Sweetgum" has beautiful foliage and intense fall colors.

• Cedar of Lebanon. Cedrus lebani. $250.
A kingly looking, large evergreenprized by the Phoenicians, Egyptians & Hebrews.

• Giant Sequoia. Sequoiadendron giganteum. $250.
Among the wortld's larghest trees. Our specimen is waiting for an auspicious planting time.



Visit the Peace Garden to become a Peace Garden Tree Sponsor.
Contact Aya, the garden's caretaker, for a Tree Sponsorship appointment:
aya (at) starwheels.com
Contact Gardens for Humanity to become a Friend of the Peace Garden: www.GardensForHumanity.org
Sedona Creative Life Center, 333 Schnebly Hill Road, Sedona, Arizona 86336.
www.SedonaCreativeLife.com